© 1998-2010
Ontrac Consulting, Inc.

Webmaster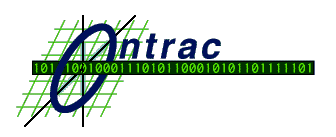 Ontrac Consulting Inc.
On-Line Transaction System Specialists
ONTRAC Consulting has provided technical leadership in all phases of complex system development-business requirements, external functional specification, design, task estimates, implementation and subsequent enhancement and maintenance. ONTRAC Consultants are specialists in supporting businesses whose prime products are services realized through complex electronic systems. They understand that the negotiation of a system solution must combine technical correctness with the additional elements of time constraints, flexibility for unanticipated business enhancements, and feasibility for implementation by staff available to the customer.
ONTRAC Consultants have experience in a variety of areas, from PCs to mainframes, from Payment Systems test tools to complex authorization and switching systems. While serving the financial industry, ONTRAC Consultants have provided expertise as lead architect and designer for a major credit card Authorization System which switches authorizations, and a Debit Card System which switches financial transactions between card company systems and other financial institutions. This Debit Card System has stringent requirements for financial integrity. The resulting systems have seen the credit card company through a period of remarkable growth in the number of end points serviced, transaction volume handled, and new services offered.
ONTRAC Consulting was formed in 1983 by Lynn Samuels and Loren Hall, former members of IBM's contract consulting business unit, Information Systems Services. Mr. Hall and Ms. Samuels brought to ONTRAC thirty-eight years of professional experience with the IBM Corporation. David Eichar, a former IBM colleague, joined ONTRAC as a partner in 1985.
In 1986, ONTRAC undertook the development of its first product, the PC-based TranScan/8583 Protocol Analyzer for the Bank Card Industry. The TranScan provides Bank Card Processors with a field-formatted view of financial transactions encoded in the ISO 8583 Standard bit map format as well as a variety of other application transmission formats. The first TranScan/8583 was purchased and installed in March, 1987. TranScan's may now be found in such varied locations as Singapore, London, Miami, San Mateo, Bogota Colombia, Honolulu and McLean Virginia.
Since 1990, ONTRAC has led the design and implementation of the communications Front End portion of a Unix-based bank card authorization system, owned and very successfully marketed by a London-based software company. This Front End performs BSC, SNA, X.25 and TCP/IP communications, parsing and building of ISO 8583 "bit mapped" messages as well as message routing between TCP/IP connected Front Ends.
In 1998, Ontrac developed the Ontrac Test Tool, its Payment System Simulator and Test Tool. The Ontrac Test Tool is Linux-based and provides powerful multi-user testing of a variety of Payment System interfaces and processing roles. Ontrac Test Tool can also be used for volume stress testing. Ontrac Test Tool was used by a major regional network for Y2K certifying all of its endpoints and is currently being used for both new certifications and for testing in-house switch software.
ONTRAC has expertise in all areas of Payment System functionality and processing including:
Point of Sale / Acquirer processing

Card Issuer Systems

Telephony software engineering

Transaction security, key management and pin encryption

Client / Server design and implementation, including Windows NT and Unix connectivity

Smart Card / Chip Card technology and processing

Object oriented design

Application access using Web Browsers

Application switching architectures
Client lists and references are available on request.